Here's what you need to know about the First-time Home Buyer Incentive- CTV News
Date Posted: September 3, 2019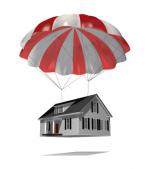 Launching earlier this week, the federal government's new home buyers program aims to help nearly 100,000 Canadians achieve their home ownership dreams while helping with the monthly payments.
The programs offer a 5% down payment amount for default insured mortgages, 10% for new construction, as a no interest second mortgage.
There are some prominent conditions that programs applicants should be made aware of, and Frank Napolitano of Mortgage Brokers Ottawa helps to explain.
"First off, to be considered eligible, applicants must not have owned a house in the last four years – exceptions will be made for those in a "breakdown of marriage or common-law partnership."
Secondly, a homebuyers' combined annual household income must be lower than $120,000 before taxes and deductions. As Napolitano says, that qualifier strikes out most residents from Vancouver and the Greater Toronto Area.
"The max income is $120,000 that can be used for this program, therefore to qualify for a mortgage – if you have no debt – it's typically four, maybe four and a quarter times your annual gross income so there's not a lot of properties in the $500,000 range or less. Maximum property value under this program would be $560,000."
To that end, the FTHBI is more likely to benefit residents in less crowded markets, like smaller urban centres in Ontario, Quebec, the Prairies, or out east where you can still find a home below the price cap.
Additionally, as Napolitano points out, first-time buyers will still have to cough up default insurance under the plan.
"We've had customers call us and say, 'we'll put the 10 per cent down and then we'll buy a new build and the government will give us 10 per cent so we don't have to pay default insurance.' False. Regardless of the down payment, this program only works if you have default insurance."
Default insurance protects financial institutions from default – the premium gets tacked on to your mortgage payments."
While the government is willing to offer the funds to help ease the monthly costs of home ownership, there is a repayment required which is triggered by one of 2 events, whichever comes first:
The sale of the home

25 year from the date of purchase
To read more from the CTV News article, click here.
Looking for program information? Visit the National House Strategy Website for more information and application forms.
Contact your Mortgage Broker today to find out how this may help with you home ownership dream.