Bank of Canada maintains overnight rate target at 1 ¾ percent
Date Posted: September 4, 2019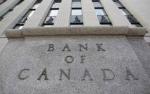 Despite trade conflicts, the central bank has once again decided to hold firm on the overnight rate for the time being stating the economy is still growing at desired levels despite the conflicts.
"Canada's economy is operating close to potential and inflation is on target," the bank said. "However, escalating trade conflicts and related uncertainty are taking a toll on the global and Canadian economies."
"In this context, the current degree of monetary policy stimulus remains appropriate."
The next trade announcement it set for October 39, 2019.
To read the full release from the Ban of Canada, click here.